Swarm Sensors for Situational Awareness
The most dangerous weapon enemy forces use against the modern warfighter is the unknown. Insurgents prey on a lack of situational awareness in order to weaken coalition forces. Providing more information to the warfighter increases his or her chance of success on the battlefield, and in difficult urban areas. However, that information must be delivered in a timely fashion and be presented in a meaningful, effective way. Ultrasonic sensors, coupled with Bluetronix swarm networking and heuristic area characterization algorithms, can provide a disposable module capable of characterizing the rooms of buildings in battle areas.

Multicasting & Geocasting
Oftentimes, messages sent on a network need to be delivered to more than one particular node. On the battlefield, this could happen if certain soldiers require specialized information that others do not need. In industrial sensor networks, a single sensor may supply multiple data collection points or controllers with measured information. Sending information from one source to multiple destinations is referred to as multicasting.


Bluetronix is building compatibility between Swarm and the HART which will accelerate and expedite these commercialization efforts for market entry.

DNA Computing
All computers in existence today make use of binary code on the circuits of a computer chip, forming the basis for all computer calculations, from simple addition to the solution of the most complex differential equations. Since the DNA molecule is also a code, but is instead made up of a sequence of four bases that pair up in a predictable manner, many scientists have thought about the possibility of creating a molecular computer. Rather than relying on the position of electronic switches on a microchip, these computers would rely on the much faster reactions of DNA nucleotides binding with their complements, a brute force method that holds enormous potential for creating a new generation of computers that would be 100 billion times faster than today's fastest PC. DNA computing has been heralded as the "first example of true nanotechnology", and even the "start of a new era," which forges an unprecedented link between computer science and life science.
Intelligent Controls for Unmanned Vehicles
Bluetronix is designing intelligent algorithms to simplify the control of groups such as UAV's in various scenarios. This permits a single user to rapidly change the 'behavior' of the swarm as a whole without adjusting or fine-tuning the behaviors of each agent. As part of this work, Bluetronix looks to develop unique self-optimizing auction systems for agents to prioritize movement and targets among themselves. This auctioning system can take account of a large variety of factors including agent capability (e.g. speed, fuel, ability to prosecute specific target sets, and communications capability) and environmental effects (e.g. wind, terrain, target characteristics). This auction process is specifically designed to obtain results very quickly with minimal communication required between the individual unmanned agents. Furthermore, the results of the auctioning process have been mathematically proven to provide optimal solutions to a wide variety of problems. This optimization technique can be applied to groups of Bluetronix mobile wireless routers to efficiently self-optimize links through the network and ensure that critical communications move through the network as rapidly as possible with potentially reduced processing and memory requirements.

Micro-Electro-Mechanical Systems (MEMS)
Micro-Electro-Mechanical Systems (MEMS) are the integration of mechanical elements, sensors, actuators, and electronics on a common silicon substrate through microfabrication technology. While the electronics are fabricated using integrated circuit (IC) process sequences (e.g., CMOS, Bipolar, or BICMOS processes), the micromechanical components are fabricated using compatible "micromachining" processes that selectively etch away parts of the silicon wafer or add new structural layers to form the mechanical and electromechanical devices.

MANETs
A MANET is a collection of computers, or nodes, participating and cooperating in a computer network. Information is communicated between nodes via a wireless link. There is a limited communications range for each node, and each node has only a few neighbors. Neighbors are nodes that can communicate directly. Nodes are assumed to be mobile; nodes can move relative to each other. This mobility allows the topology of the network to change dynamically. The network topology can be represented as a graph of the links that exist between pairs of nodes. Two nodes connected by a link may exchange information directly; otherwise, they must find a path using intermediate nodes to forward the information from the source to the destination.

Micro-Satellite Swarms
The operation of micro-satellites working together in swarms demands new strategies. Bluetronix is looking to develop control packages and communications suites founded upon rule based commands for group behavior algorithms enabling collaboration of swarms of micro-satellites, tasking of individuals, and fuzzy system identification for adaptive sensor fusion dictating rule based commands. In this architecture, parallel-distributed genetic algorithms will be implemented to generate rule bases for planning and scheduling the directives of individual group members. Individual satellites, each equipped with their own rule-based controller, will perform assigned sub-tasks based on their own directives.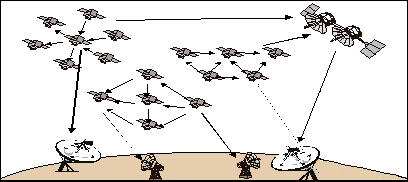 The packets traveling through the various wireless connections formed by the network's intelligent routing software is based on some prior work that leverages research in the development of swarm intelligence. This program also performs conceptual designs that could be easily integrated on a wide variety of mobile platforms including satellites, Earth Science sensor networks, ground stations, and small aircraft, all connected in an ad-hoc fashion.
RFID Applications
Broadly speaking, the RFID market is segmented into low-end and high-end tags. Low-end passive tags have approximately 32 bytes of local storage and are powered by the RF field generated by the readers. High-end tags can have full-blown microcontrollers and multiple interfaces to the environment, with local batteries to power them.

Smart Sensor Networks
A smart sensor network consists of a number of sensors spread across a geographical area. Each sensor has wireless communication capability and sufficient intelligence for signal processing and networking of the data. Some examples of smart sensor networks are the following:
Military sensor networks to detect enemy movements, the presence of hazardous material (such as poison gases or radiation, explosions, etc.)
Environmental sensor networks (such as in plains or deserts or on mountains or ocean surfaces) to detect and monitor environmental changes.
Wireless traffic sensor networks to monitor vehicle traffic on a highway or in a congested part of a city.
Wireless surveillance sensor networks for providing security in a shopping mall, parking garage, or other facility.
Wireless parking lot sensor networks to determine which spots are occupied and which spots are free.
Besides offering certain capabilities and enhancements in operational efficiency in these conventional applications, smart sensor networks can assist in the national effort to increase alertness to potential terrorist threats.

The intelligent fluid sensor called multi-element lubrication health sensor developed at Rockwell Automation's Advanced Technology Labs in Mayfield Heights, Ohio, provides important fluid information such as seal failure, water or metal debris contamination, low concentration of fluids in the machinery and so on. The sensor information is crucial for early fault detection in the machinery to avoid machinery failure and for regular maintenance. The information can be relayed to the control room wirelessly with the use of Bluetronix BlueStar sensor modules

White papers on our products and technologies are available upon request. E-mail us at innovation@bluetronix.net or call 440.247.3434.