Bluetronix is transforming prototypic (8-bit processor) systems into commercial (8-bit and soon 32-bit processor) products using COTS (Commercial-off-the-shelf) components that will provide wireless self-forming, self-healing, self-adapting MANET (Mobile Ad Hoc Network) sensor networking including both battery and non-battery powered options. These same modular designs can be integrated to software defined radios, machines, transportation and logistics. The product strategy is modular formats that can be used in all types of machinery and equipment that need to read sensors. Bluetronix is currently looking to program the HART (industry new standard) radios (IEEE 802.15.4 compatible radios operating in 2.4GHz ) with Bluetronix's Swarm algorithm that is proved to provide better wireless network performance. The modules are commercialzed with a name tag - BlueStar. The 32-bit BlueStar product will hit the market in 2009.
802.15.4 Product Data Sheet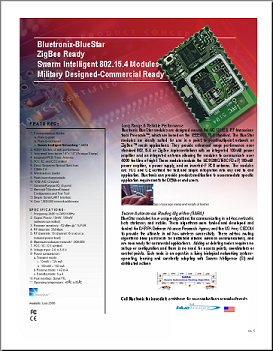 [ Print ]
802.15.4 Products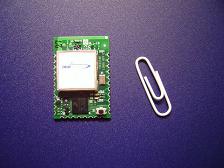 [ View Larger ]
Fig. BlueStar 8-bit Module
Fig. BlueStar 8-bit Modules integrated in the development boards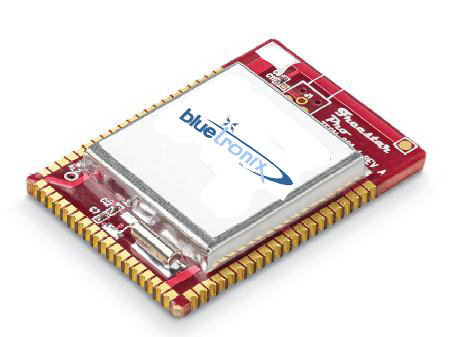 Fig. BlueStar 32-bit Module
The Swarm Chip
Holds Bluetronix Swarm Algorithms in initial hardware design.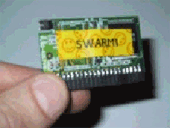 Applications
Bluetronix "Bluestar™" product lines will include miniature transmitters, receivers and transceiver hybrids, plus OEM data radio boards and related protocol firmware and development kits. These products are used to implement short-range wireless data communication and control links in a wide range of applications with swarm intelligent networking capability. Most of the technologies in the market available today are limited to sensing and control applications and basically point to point. Bluetronix's innovative swarm intelligent routing algorithm technology has expanded its appliatication to MANET (Mobiel Ad Hoc Networks) by provinding efficient and uinique multi-point communciations capability using swarm intelligence concept.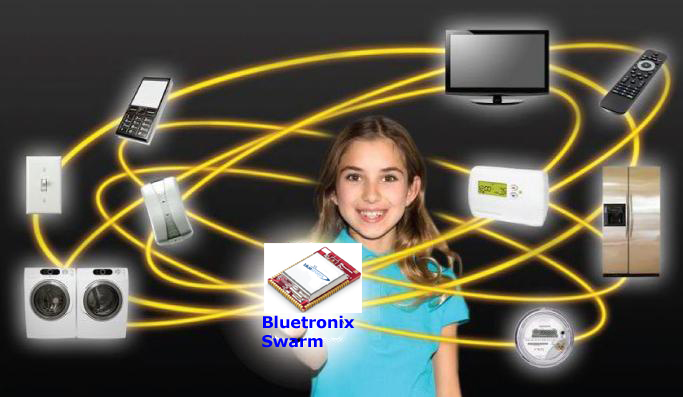 Fig. Bluetronix Sensor and Control Solutions (Source Zigbee)
Handheld and body-worn computers

Wireless bar-code readers and label printers Wireless credit-card readers and receipt printers

Container Monitoring

& RFIDs

Automatic meter reading systems

In meter application - automatic utility meter reading
Thermostats
In-home Display Unit

Home entertainment systems and electronic games

Home, building and industrial automation systems

Security
HVAC Control
Lighting Control
Thermostats

Machine Controls
Temperature Sensing and Other Sensing Devices

Automotive keyless entry systems and wireless security systems

Sports and recreational equipment

Industrial Control

Medical telemetry (non-life support)

Smart Energy
Container Monitoring: Bluetronix is planning to create an ad hoc network with swarm intelligence environment to send the information of the containers or the boxes tagged with RFID, to the controller as showed in figure below. Nodes - the COTS device programmed with Swarm Autonomous Routing Algorithm (SARA), will be interspersed with the boxes or containers and transmit specific radio frequency after getting the command from the controller. The containers get activated and transmit its content's information. Node will receive this information and route this information back to the controller which will be displayed on PC (GUI) interfaced with the controller. We are actually concerned about the continuous movement of the boxes or containers; they might be continuously in and out of radio ranges of motes and controller, being transferred from one storage location to another, however, their information is always available with the creation of intelligent, self-healing, reconfigurable networking environment provided by SARA routing Protocol. In this application we have not used the location based services. If the locations of the containers or boxes are also required, we can use the location based version of SARA which will have better network performance as described in Part B: Future Work. Since, this is the indoor application we can use the location services provided by Destination Zone Routing (DZR).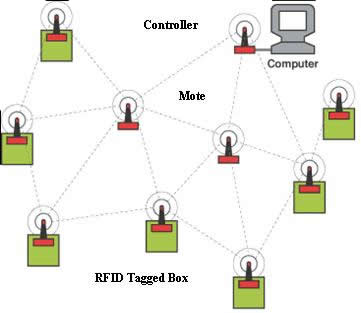 Figure: Motes ported with SARA code are interspersed with the RFID tagged green boxes; Controller is interfaced with the computer to display the information it received from the boxes; Boxes move in and out of the radio range of the motes continuously
Industrial Automation & Controls: Bluetronix 's innovative swarm intelligent algorithms and module products provide a powerful monitoring and control solution for Industrial automation with swarm wireless networking and learning within seconds. One example applications is lubrications system control (click on read more).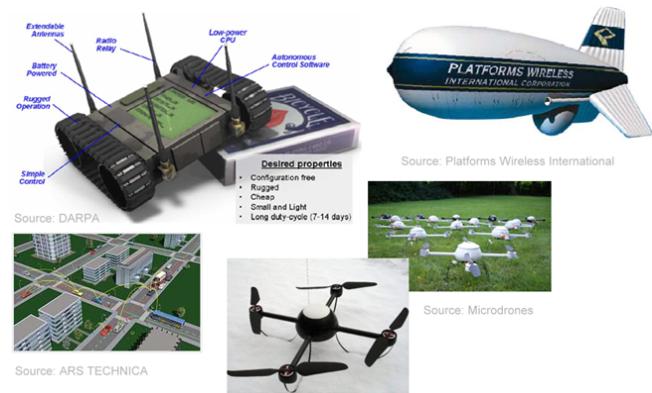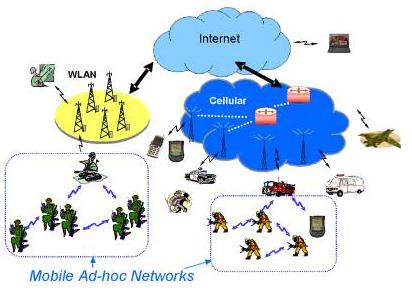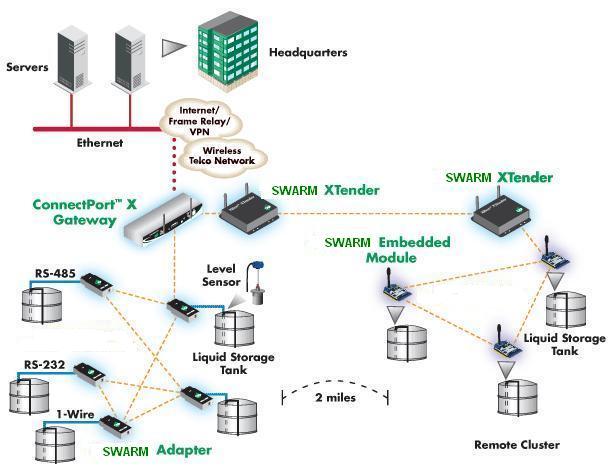 Fig. Bluetronix Swarm Applications for Mobile Ad Hoc Networks
Wireless Thermocouples & RTDs
Wireless Sensor Networks - Temperature, Pressure, Accelormeter, and so on.
Swarm Asset Tracking and Monitoring: Swarm networking module products provide a flexible monitoring and control solution for Asset Management back to the user or over the Internet through swarm gateway.
Remote Asset Tracking

and Monitoring

Chain Monitoring

Sensor Networks
Environmental Monitoring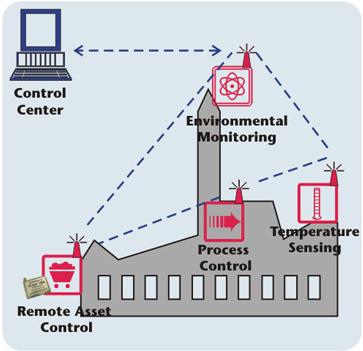 Remote Asset Tracking and Monitoring: SARA will be the best fit for the car dealership application as mentioned in the article http://www.specialtypub.com/ to provide information about the location of the assets (new and old cars and trucks for sale; own fleet of vehicles that includes courtesy vehicles, shuttle vans, parts trucks, and tow trucks) quickly, reliably, and cheaply to efficiently manage them and protect them from theft. Swarm algorithm is designed in such a way that by enabling its location service feature, nodes start exchanging location information and know the relative position of their neighbors and hence can forward the information (data) in particular direction in hopes of getting there quickly. The location information also expedites the learning curve of the nodes. In this way, SARA algorithm not only provides "location information" routing services to the applications, it also benefits from that location services. With GPS technology improvements - price coming down and the form factors getting smaller, each mote programmed with SARA algorithm can be provide with GPS chip. Mote will be embedded in the assets (vehicles, electric poles or other structures). Since a mote is a low powered device, it has transmission range of around couple of 100m. To cover a city or the state or the country, motes can be inexpensively and easily embedded to electrical poles or trees or any other structures as showed in Figure below. There will be no need for communication towers as used for cellular communication. Moreover, the motes are getting extremely cheaper.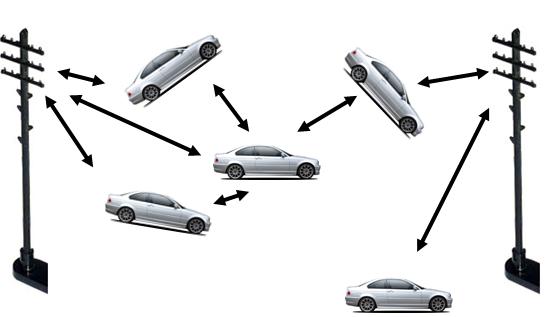 Figure: Motes ported with SARA algorithm are embedded into the vehicles and the electric poles providing MANET environment; motes in the vehicles have integrated GPS while the latitude and longitude information are hard coded into the poles.
The SARA algorithm uses the intelligence approach to favor those nodes as a location server that have low mobility, large storage capacity and wide broadcasting ranges (nodes embedded in the structures). The location node or server "goodness" pheromone indicates how good a node is at being a location node i.e. providing location to other nodes. This pheromone is increased when a node answers another node's request, and decrease over time through pheromone decay. When a node needs to know the location information of another node (not in its range), it first consults its location server in its range. If it is not there, it will ask for other location server that has higher scorecard values.
Mesh Wi-Max: Smart Wireless Routers with integrated modems for Last Mile Connections High-Speed Internet- Rural Areas Providing router to router connectivity anywhere.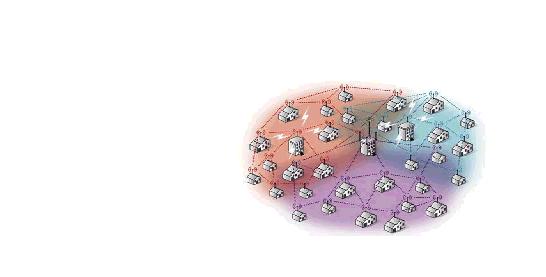 Pervasive Computing: Current research for products includes mid-range processors, such as the Intel StrongARM SA1110 and XScale PXA255. The main aim is to develop a platform that can be used for developing wearable systems.
3. Other Potential Applications
Advanced Information Access

Pervasive Software

Computer Security

Biometric Access Control

Pervasive Devices – mobile or embedded devices that provide easy access to information and services

Dynamic Service and Device Discovery – for automatically finding networked resources as needed

Pico-Cellular Wireless Networking

Smart Space Integration

Pervasive Software Tools

Pervasive Networking Technology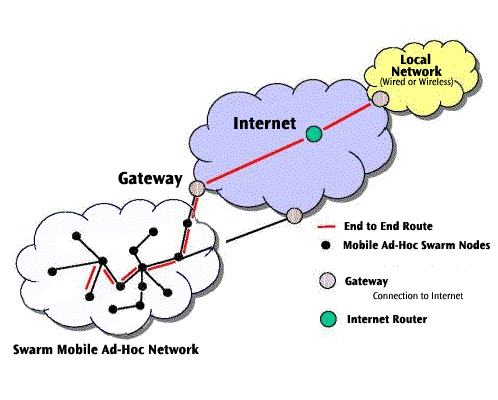 Fig. Swarm Mobile Ad Hoc Network connected to Internet via Swarm Gateway
White papers on our products and technologies are available upon request. E-mail us at innovation@bluetronix.net or call 440.247.3434.